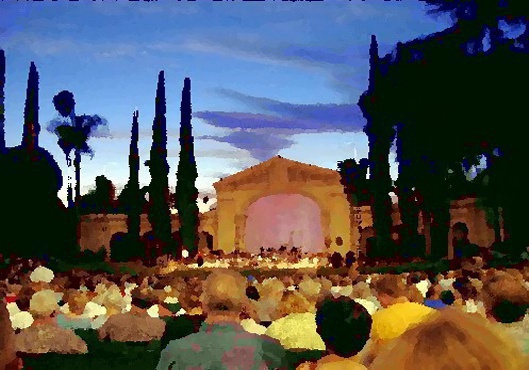 Redlands Bowl Symphony

Join us under the stars, on the season opening night of the historic Redlands Bowl, for symphony concerts and opera favorites. Music selections will run from Handel to Gershwin to John Williams.

Dine with us at the healthy, delicious, and affordable Farm Artisan Foods Restaurant, Redlands.

On Friday, June 28 we will carpool to Redlands, departing at 6 pm. Dinner reservations at the Artisan are at 7 pm. The concert begins at 8:15 and continues until 10:30 pm. Depending on the number in our group, we may be able to pick you up at your home, so that you can sleep during the car trip back up the mountain.

The symphony will be conducted by Frank Paul Fetta, and will feature the International Woodwinds Conference. Performers include Oboe soloist, Pietro Corna and bassoon soloist, Valentin Martchev in participation with the International Double Reed Society conference currently in progress at the University of Redlands. The event is organized by the Redlands Community Music Association, Inc.

Directions for drivers:

To the restaurant:
From Hwy 10, go south on Orange Street. Cross Redlands Blvd, and then make the first left turn onto E. State Street. Farm Artisan Foods Restaurant will be at 22 E State St, on the right in about 250 feet.

Concerts and parking are free. Bring cash for dinner. Entrees are $10 to $15. Tax, and tip, and a beverage run that up to around $28.

Bring a jacket. Bring a cell phone & Don's number 951-315-9741 in case you become separated. There is bench and lawn seating. We may bring a blanket. Weather is predicted to be mostly clear, with a low of 68. Daytime highs are around 100.


RSVP is required.
Contact us. The restaurant requires reservations, so we can't leave attendance open to whoever shows up.

To the Bowl:
From the Farm Artisan, continue east on E State Street, turn right in half a block, and right again, onto Citrus Ave. Go two blocks, turn right on Eureka St., and then take the next right into the Redlands Mall parking lot. Park in the outer lot. Then follow the crowd on foot to the Bowl, about a block on Eureka Street.